AN EVENT FOR ALL
In the Maroc we have an ample variety of participants, from people with practically no experience to very seasoned teams, rookies compete alongside veteran teams that repeat edition after edition. The Maroc adapts to all these profiles via different categories and routes adapted to each of them, allowing the coexistence and enjoyment of everyone, whatever your experience, your vehicle and your preparation.
IT IS NOT A QUESTION OF SPEED
For safety reasons, the maximum off-road speed allowed is 80km/h and the profile ofeach stage sets the pace for each team. The Maroc classification is based on apoints system that prioritizes track navigation, straying away from it only within certain limits, complying with the checkpoints and speed limits and arriving within the stipulated time limit for each stage. These are the keys to not penalize and maintain positions.
A DIVERSITY OF LANDSCAPES
Morocco is a country of contrasts, the mountainous landscapes of the Atlas, the Atlantic coast, the Mediterranean, oueds, palm groves, the desert. Our itineraries tend to focus especially on the south of the country and are composed mostly of tracks, sandy areas and 360º desert. Each edition, each stage, differs greatly in difficulty, terrain and total mileage. Each Maroc is unique.
TECHNOLOGY AS A PRINCIPLE
We arenostalgic when it comes to adventure, but innovative when it comes totechnology. The Maroc is an event which primes technology, especially in the area of safety. We have a live tracking platform and a system designed especially for our event, which allows us to locate each participant in realtime, and allows communication with the organization to request mechanical or medical assistance, along with a classification system with detailed information of the routes, times and penalties which facilitates offering the classifications of each stage, practically minutes after the conclusion. Both systems have been designed to fit the format of the event, and provide public access to them, both for the participants themselves, and for the people and sponsors who follow their participation from home.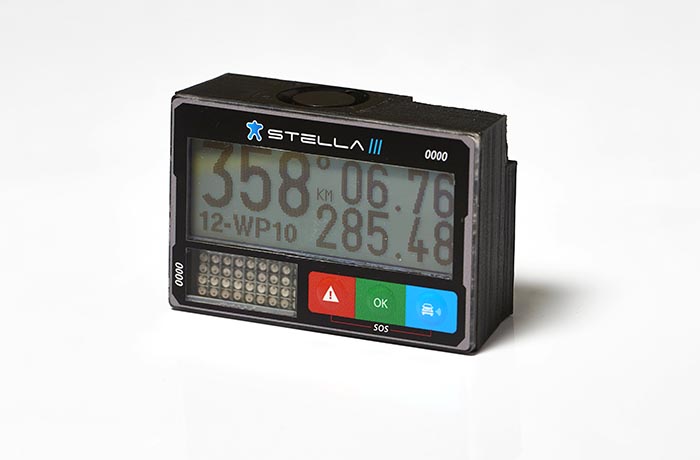 STELLA III
This is aprofessional location and security system (3G / Satellite) that is used in Rallies and American Bajas. It is also a communication system between vehicles that improves safety in race situations where two or more vehicles may be close to each other (as in overtaking). Regardless of conditions of low visibility, Stella alerts by acoustic and visual warnings of the proximity of a vehicle.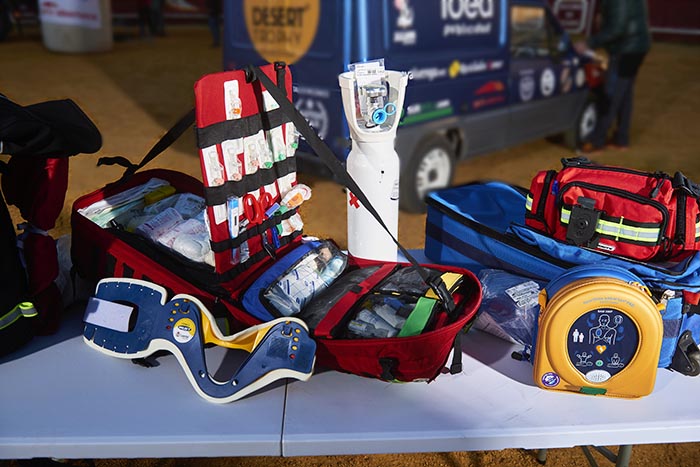 MEDICAL TEAM
A medical team specialized in events of this type and familiar with the uniqueness of our host country, Morocco, accompanies us in each edition. Our medical personnel accompany each stage by track in 4×4 vehicles in order to minimize the time needed to reach potential situations. Besides rapid intervention vehicles to assist in possible accidents and medical situations along the track, we also have an ambulance following the route, strategically placed on major road crossings along the way.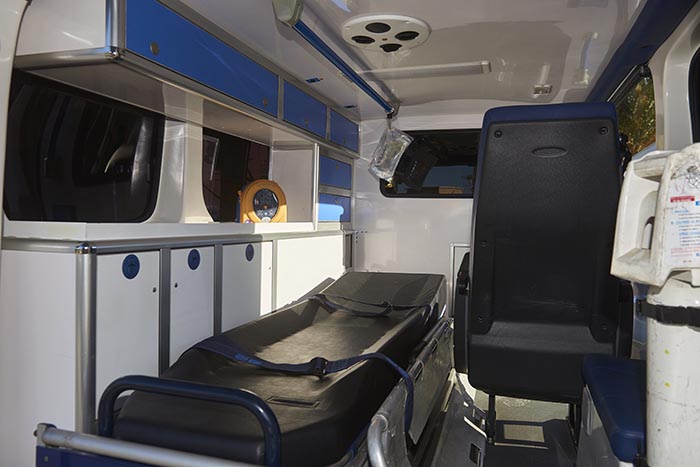 HEALTH INSURANCE AND REPATRIATION
Participation in the Maroc Challenge requires taking out compulsory health insurance that provides repatriation to Spain to undergo any treatments or interventions required in case of an accident, providing the situation or emergency don't advise against it. This policy also includes medical assistance, first aid, andambulance services for the duration of the event.
More than 40 professionals in different areas of activity
We are a great team working together to ensure everything goes well.
Rescue team
One rescue vehicle for every 25 vehicles accompanies our participants along each event.
Medical team
Our medical team is made up of doctors and nurses (both Spanish and Moroccan) with experience in sporting events. Distributed along the itinerary in different vehicles, they follow each stage positioned both at the head and tail of the event and along the route, ready to assist our participants in the event of any incident.
Mechanics team
Although each participant is free to repair their vehicle in the workshop of their choice, Garage Iriki's mechanics accompany us to provide any mechanical services that may be required at the end of each stage.
Supervision Team
Our online live tracking team keeps track of where our participants' vehicles are. Ensuring supervision both from Spain and from Morocco.
Classification Team
Through our online platform and the Stella III online 3G system, the classification team is responsible for registering and processing the data (speeds, waypoints, penalties, etc.) of every vehicle along each stage.
Supply Team
Our supply team performs miracles each day at the Maroc, they are the last to set out each stage and the first to reach the goal. Their van is also a bit of a Tardis, it fits just about everything inside, from inflatable arches to cookies.
Logistics Team
Responsible for managing ferry reservations, accommodation, health insurance, etc; They accompany us along each stage to attend to any incident that may arise.
Participant Assistance Team
Our team for everything, there is no doubt or query they cannot resolve. They are available at the starting line, at the finishing line, at breakfast, at dinner ... Just ask!
Media team
Our sports photography and video professionals document each stage, following the same route as the participants to provide you with the best quality material for you to share with your family & friends.