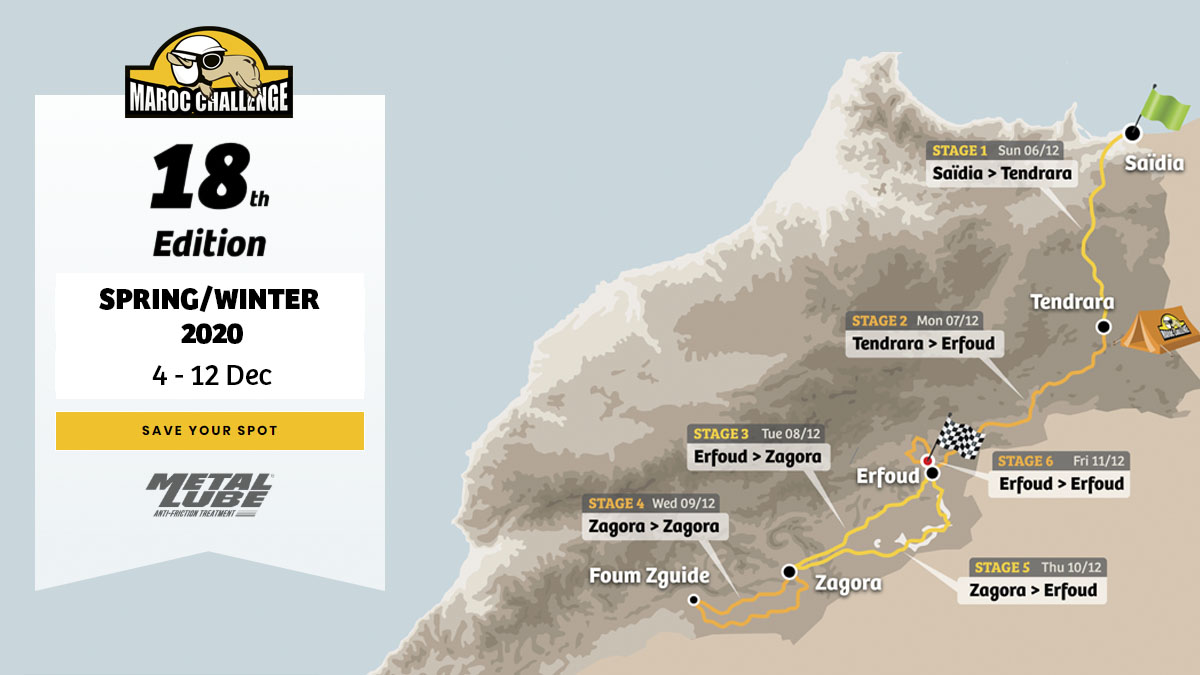 The Maroc Challenge has launched itself into preparing the Spring/Winter 2020, with the aim of offering you even bigger and better adventure and excitement, following the interruption the Covid19 situation has precipitated. This new challenge for everyone will take place from April 4th till the 12th, 2020 and it will put all your experience to the test.
This new edition will bring many new features which we will gradually unveil, including a Marathon stage and Waypoint navigation in parts of some stages. As an opener we will tell you that the official departure will be in Saïdia, Morocco, a hundred kilometers from Nador on the shores of the Mediterranean, that the itinerary will be linear and that the event will end in Erfoud.
An edition you cannot miss, as we are designing a very special itinerary for you, with the desert plains and sands as the main feature. We start out from Saïdia and pass through such charismatic places as Tendrara, Erfoud, Foum Zguid, Zagora and Merzouga. The adventure will maintain the same philosophy we have been developing in recent editions, with routes adapted to the different types of vehicles, both 4×2 and 4×4, with various different levels of difficulty.
For this edition we have chosen a more adventurous route, looking for new challenges to enable all our teams to get acquainted a little more with this country we are so passionate about. The Spring/Winter 2020 is designed for us to once again enjoy a great adventure and as usual: don't expect it to be easy… because it won't be.
However, due to the current situation and because we think that right now you must concentrate your efforts on more important things: health, family, work… We have decided to postpone the opening of registrations for a few weeks. At least until the state of alarm ends and we see we are regaining control of our normal day to day activities.